When a person you love is nearing the end of life, you want to make sure that they're safe and comfortable, with dignity and peace.
Frequently Asked Questions
You want to be sure your loved one's caregivers are capable, caring and alert.
You know that providing the care they need is a 24/7 responsibility. Maybe you're one of the caregivers, or you're supervising the care. Chances are you're stressed, weary and worried about making a mistake.
You want your loved one to have peaceful time with you and your family. And you'd like to have good memories to carry forward.
What you don't want is your loved one to be in pain, or to be injured.
And you don't want your family to be arguing, stressed and exhausted.
We will welcome your loved one and your family into a place of peace, comfort, support and dignity.
Our residents' needs are 24/7, and so is our caregiver staffing.
Our resident-to-caregiver ratio is designed for the high demands of end-of-life care – typically 6-to-1 (nighttime) and 4-to-1 (daytime).
Our caregivers are experienced with the challenges at the end of life. And they are able to serve as guides for family member.
With our help you and your family can go from worried and exhausted to being peaceful and proud that you did the very best for a person you love.
Call us about bringing your loved one to Hopewell House or reach out using Get In Touch below.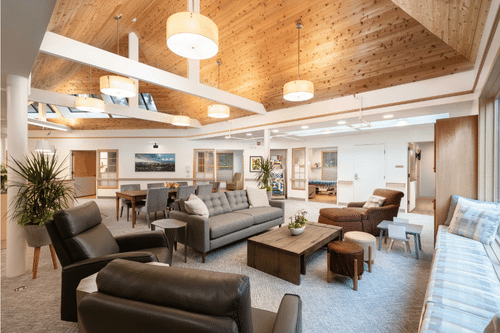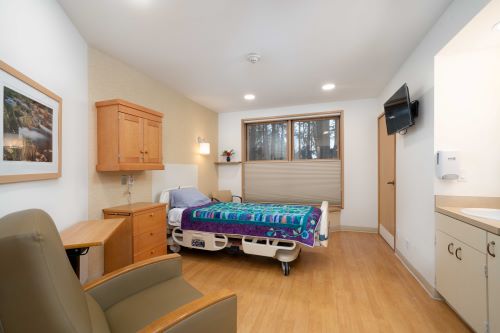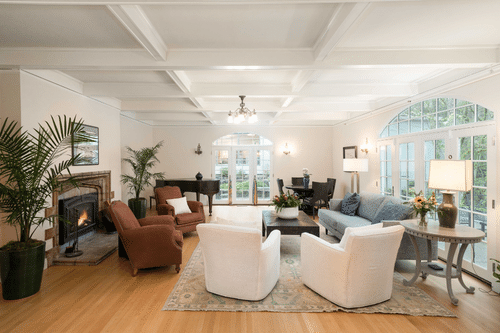 At Hopewell House, we help people live well, while dying.
Frequently Asked Questions
Who is eligible?
We welcome community members who are receiving or about to receive hospice services and are in the last weeks or days of their lives.
We take the person's care needs and personal circumstances into account.
There must be a person responsible for the resident's care decisions and financial matters. 
Do you have availability?
Availability of bedrooms changes frequently. We can often admit a resident on fairly short notice, but it's best to discuss matters in advance of a possible need.
What about hospice?
All of our residents use a Medicare-certified hospice provider of their choice. Hospice provider teams offer medical care and pain and symptom management, as well as spiritual support, counseling and education. Hospice team members visit our residents and provide vital support to them and their families.
On average across the community, hospice service teams visit their patients for five to ten hours per week.
We are with their patients (our residents) 24/7.
Which hospital/hospice group do you belong to?
None. Friends of Hopewell House is an independent nonprofit organization.
Is Hopewell House religious-affiliated?
No. We welcome and honor people from all cultures, spiritual backgrounds and traditions. We welcome residents without regard to race, ethnicity, national origin, religious beliefs, sexual orientation, age or and gender as long as they meet the admission criteria.
What is the typical length of stay?
We expect the average length of stay to be around ten days, as we know some residents will be here for days, and others for weeks.
In the normal course, residents can stay at Hopewell House indefinitely. There is no maximum.
Exceptions include:
If a resident's needs increase to the level that we can no longer safely care for them.
If a resident no longer needs the level or type of services we provide.
Oregon rules allow us to discharge a resident in specified circumstances.
What is the house like?
The house is a beautiful 1926 English Tudor with a resident care wing addition. Our house has a gracious living room, dining room, plus meditative and alternative therapy spaces in the original house. The updated resident wing consists of 12 private bedrooms, a great room, and a kitchenette for guests.  The house sits on 4.5 acres of serene landscape and wooded land. 
What are the bedrooms like?
All bedrooms are private. Each has soft colors and windows allowing in natural light. All are located on the same floor.
Each bedroom is fully furnished but you may bring items to personalize your bedroom.
Furnishings include a fully-powered adjustable bed, side table, guest chairs and wardrobe space. Each bedroom has a TV and remote. A lockable storage drawer or cabinet is installed in each bedroom for the resident to maintain small valuables.
All residents receive ample linens and bath towels as well as basic toileting items. In general and together with the resident's hospice agency, we provide all of the necessary items to assist in the care of the resident.
What about meals?
When a resident first arrives, we find out their food preferences and work hard to meet them. Homemade meals and snacks are provided. Timing is adjusted to meet the resident's wishes as much as possible. Accommodations can be made for residents wishing to store special food items.
Do you have shared bedrooms?
No. Bedrooms are private, not shared. One of our bedrooms could accommodate a couple.
What about smoking?
Smoking is permitted with supervision in the designated smoking area in the front courtyard. Otherwise, no open flames, candles or smoking (including vaping) are allowed in the building or on the property.
How are medications stored and administered?
All medications are stored in a medication cart located in a locked medication room. Medications are administered by trained and qualified staff. For residents who wish to self-administer their medications, an additional screening is required.
What about visiting hours?
Hopewell House welcomes your guests into Hopewell House as you did in your previous home, and does not keep restricted visiting hours. Our community does require all guests sign in and out at the reception desk each time that they visit. Guests are welcome to move about in public common areas of the house but need to ask permission before entering offices or resident bedrooms.
Where should we park?
Parking is available for guests and providers directly along the exterior frontage of Hopewell House. Additionally, there is an upper parking lot for overflow parking. Signs on the grounds will direct you.
Are pets allowed?
Well-behaved pets are allowed to visit Hopewell House. Management approval must be obtained in advance and each pet will be considered in accordance with the House Rules.
Is the house wheelchair accessible?
Yes. A wheelchair entrance makes indoor and outdoor areas easily accessible. Wide doorways and bathroom access assure mobility throughout the house.
What are the payment arrangements?
Residents and families pay for care every 14 days, with the first payment due at time of arrival/admission. We accept a variety of payment methods. Our admissions team can discuss this more with you during the preliminary conversations and/or admission process.
Do you accept Medicare, private insurance or Medicaid?
Medicare and insurance do not pay Hopewell House for a resident to stay here. If a resident has long-term care insurance, they might be reimbursed for the costs of living at Hopewell House, depending on the terms of their policy. Hopewell House is able to accept Medicaid as payment for Medicaid-eligible residents.
Are payments tax deductible?
A portion of resident and family payments to help cover costs of care might be deductible as medical and/or long-term care expenses for Federal income tax purposes. Check with your tax advisor. Those payments are not deductible as charitable donations under the Federal income tax rules.
How much does it cost?
We ask residents and families to cover the costs of care, and to do that to the best of their ability. Our admissions team can discuss this more with you during the preliminary conversations and/or admission process.
What are your additional charges?
There are none. No evaluation charge; no admission charge; no supplies charge; no charge for increased needs.
Connect with Hopewell House
Hopewell House
6171 Southwest Capitol Highway
Portland, OR 97239
Extensions
Administrator and Executive Director  – Ext. 4
Admissions – Ext. 2
Resident Wing – Ext. 3
Hopewell House Nurses – Ext. 5
Giving to Hopewell House – Ext. 7
Office – Ext. 7
Volunteer Matters – Ext. 6